Sandalwood Incense Cones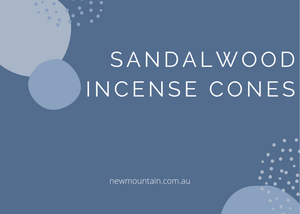 Know what you're burning in your home, make your own 100% natural incense cones. 
5 teaspoons Sandalwood Sawdust
4 teaspoons Sandalwood Powder
1 teaspoon sticky powder 
Slowly add a few drops of water and mix in with your finger tips until the powders combine to make the texture of a dough. Shape into cones and leave to dry for around 7 days until completely dry. 
All products used can be purchased individually or in our Incense Starter Pack
For more interesting info and remedies follow us on Facebook, Instagram & Pinterest @newmoutnainmerchants
 These are suggested recipes intended solely for general purposes. Individuals should exercise their independent judgement in determining its appropriateness for a particular purpose of use.  A patch test should always be conducted before applying any ingredient. If irritation occurs discontinue use.