Sandalwood Remedy #11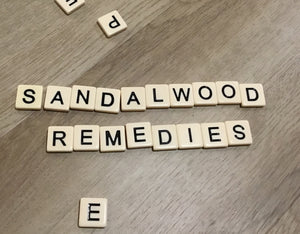 Troublesome Spots?
1 teaspoon of sandalwood powder
1 teaspoon of turmeric powder
Make a smooth paste by mixing the ingredients with a small quantity of water.   Apply a thin layer of paste onto the face and leave overnight.
Did you know? Sandalwood has natural astringent properties meaning it can reduce skin tissues and proteins, helping to reduce oiliness.
For more interesting info and remedies follow us on Facebook and Instagram @newmountainmerchants
These are suggested remedies intended soley for general purposes. Individuals should exercise their independent judgement in determining its appropriateness for a particular purpose of use.  A patch test should always be conducted before applying any ingredient. If irritation occurs discontinue use.