Sustainability of Wild Western Australian Sandalwood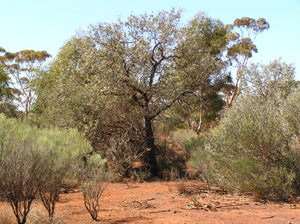 We often get asked about the sustainability of Wild Sandalwood. While Western Australian Sandalwood (Santalum spicatum) is the most sustainable in the world, it is an industry with a long history and careful management dating back to 1929. So it not always easy to answer in one sentence. We do our best to summarise the Wild Sandalwood Sustainability program and how it has evolved here.  
Sandalwood is a hemiparasitic tree, relying on the nutrients and water from surrounding host trees to grow. This native desert tree has learned that to survive, it must stretch its roots out meters under the red desert in search of the nutrients only a host tree can provide. Once the Sandalwood tree has depleted all available hosts the tree can not survive without a host tree and will eventually naturally die. 
Western Australian Sandalwood was first exported in 1844, by 1929 the first regulations were put in place for Wild Sandalwood. In 1996 the quantity of Wild Sandalwood that could be harvested was limited to 3,000 tonnes per year. In 2016 this was reduced to 2,500 tonnes per year and is set to be reviewed again in 2026.
From the 2,500 tonnes of Sandalwood that can be harvested, 50% is 'Green wood', meaning it was alive when harvested, and 50% is Sandalwood that has naturally died, known as 'Dead wood'. This wood is the same quality as the Green Wood and can be used in the same way. In Western Australia, Sandalwood can only be legally harvested by licensed harvesters.
Wild Sandalwood that has naturally died in the desert (Dead Wood) will always have high value and is a unique and beautiful wood that would otherwise be left in the bush. 
Western Australian Sandalwood is one of the worlds largest wild resources and  grows naturally throughout 1.5 million square kilometres of Western Australia. Close to the size of France, Spain, Germany and Italy combined. The Regeneration Program for Wild Western Australian Sandalwood is a world leading regeneration program, planting 5 million Sandalwood seeds per year, ensuring there will be twice as many trees in the future than the number harvested. To find our more about the Sandalwood Regeneration Program click here (link coming soon).
New Mountian Merchants use only 100% pure 'Dead Wood', Wild Western Australian Sandalwood (Santalum spicatum) in all our Premium Powders, chips, most of our logs (check product description), Premium Wild Sandalwood Incense and Mosquito Stick Range. The incense powders are a blend of Green wood and Dead wood. 
Click on the below related posts for more information:
New Mountain Sustainable Sandalwood Mosquito Range
Wild Sandalwood Regeneration Program (link coming soon)
Aboriginal Community Involvement in Wild Sandalwood
(link coming soon)
Western Australian Sandalwood History