Benefits of Natural Sustainable Wild Sandalwood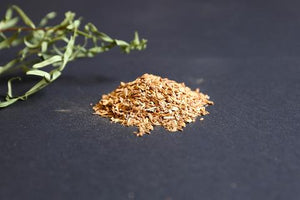 The Sandalwood tree grows in the remote arid rangelands of Western Australia. The tree is a prized treasure and its oils and wood are extremely popular.  This is no surprise, after all Sandalwood has been used by different civilisations for over 3,000 years.  
The Sandalwood's fragrant timber and its distinctive aroma come from oil contained in the heartwood.  This precious slow growing crop can take 100 years to mature enough to be ready for harvest.  
It may be one of the State's best kept secrets, because Western Australia is the only region in the world that can guarantee harvest of approximately 2,000 tonnes of sustainably grown sandalwood each year. 
The magic of sandalwood products
From the glorious oils that have been used to treat conditions such as anxiety, respiratory infection and sleep disorders for centuries, Sandalwood oil is used also therapeutically to assist in relaxing the muscles and has been used for centuries in meditation and prayer.  
Free from nasty chemicals like DEET and DEP which can be harmful to the skin, Sandalwood is also a natural mosquito repellent.  Plus pure sandalwood and its oils are non-toxic, unlike synthetic sandalwood oil substitutes.   
Sustainable harvest - No trees are cut down to manufacture the sticks
Because Sandalwood is so slow growing it is essential that this precious resource is used sensibly and sustainably.  All New Mountain mosquito repellent products are made from pure deadwood that has died naturally and is gathered from the desert.  Even the collector of deadwood is carefully monitored, ensuring the wood is not collected before it naturally dies. 
Sandalwood as a natural, environmentally friendly, and sustainable product
Sandalwood Mosquito Sticks are the only chemical free, environmentally friendly, natural mosquito repellent on the market that is safe for children and pets. Our Sandalwood Sticks are easy to use and won't break. They smell beautiful and the calming properties of sandalwood means worry-free enjoyment in the outdoors whilst keeping the mosquitoes at bay. Best of all, our Sandalwood Sticks are made from sustainably grown and managed Western Australian deadwood. 
Why natural is best
Most commercial insect repellents are laden with harsh chemicals like DEET or DEP and are not recommended for use by small children, pregnant women or people with sensitive skins.  So it's nice to find a product that is non-toxic, poses no threat to our environment and actually works. 
Mosquitos are a fact of life in Australia, and they do carry the risk of transmitting diseases but the biggest problem with mosquitos is their pester power.  The persistent biting can cause major disruptions to recreational and social activities. So it's good to know that there is a range of New Mountain products that drive away these annoying and unwanted guests. 
Next time you're planning a picnic or family barbeque, make sure you have some New Mountain Sandalwood sticks on hand, set them 3 metres apart and enjoy 4 – 6 hours of chemical free relief from 'pesky mozzies'.