BOOLAMARR - Unique Personal Care Products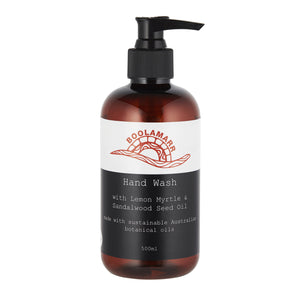 New Mountain are very excited to launch the unique BOOLAMARR range of personal care products!
BOOLAMARR means 'many hands' in the language of the Nyoongar people of the South West of Western Australia.
BOOLAMARR is proudly Aboriginal owned, made in Australia and uses sustainable botanical oils. You can now buy BOOLAMARR Hand Wash, Hand Sanitiser and Industrial Hand Wash online through the New Mountain Merchants shop.
BOOLAMARR product range is specifically designed for everyday use in the workplace and home. Developed with the traditional wisdom of native plants and shared through modern application. Boolamarr contains unique Sandalwood Seed Oil known to moisturise and restore the skin, and the fresh scent of Lemon myrtle, also known for antimicrobial properties.
BOOLAMARR's unique Industrial Hand Wash has natural Sandalwood Shell Scrub to break up dirt and naturally exfoliate working hands, leaving smooth restored skin. Perfect for gardeners, and hard working hands that are often covered in dirt and grease.
Boolamarr contains Australian oils that are carefully selected from reliable suppliers and are sourced from sustainable Australian supplies.
Designed for everyday use in the home, office, garden or workshop!
Try the BOOLAMARR range today and take advantage of our introductory prices, available for a limited time!