Sandalwood and Agarwood Incense Cones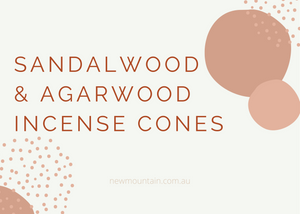 Agarwood adds a complex layered depth to the grounding aroma of sandalwood. Try Agarwood Spent Charge mixed in with Sandalwood powder to create a spicy woody calming incense that is 100% natural and safe to burn in your home.
1 teaspoon Sticky Powder 
3 teaspoons Agarwood Spent Charge
2 teaspoons Sandalwood Sawdust
4 teaspoons Sandalwood powder  
Slowly add water and mix in with your fingertip until the powders come together to make a dough. Shape into cones and leave to dry for approximately 7 days or until completely dry through.
Makes about 6 to 7 incense cones with 30 minute burn time. 
All products used can be purchased individually or in our Incense Starter Pack
For more interesting info and remedies follow us on Facebook, Instagram & Pinterest @newmoutnainmerchants
 These are suggested recipes intended solely for general purposes. Individuals should exercise their independent judgement in determining its appropriateness for a particular purpose of use.  A patch test should always be conducted before applying any ingredient. If irritation occurs discontinue use.